CO2 fractional laser treatment cosmetic effects
Author:baishilf Time:2023-02-21 14:44:29
The CO2 laser skin resurfacing machine is a minimally invasive treatment, the basic principle of which is based on the thermal effect of the laser heating to burn different layers of the skin and then stimulate the cells, the stimulated cells can activate the body's own repair mechanism, intensify the cell proliferation, so that the skin surface can be thickened while achieving a series of cosmetic effects.
Bvlaser is the best CO2 fractional laser equipment factory manufacturer, we have dermatology CO2 laser machine for sale.
CO2 fractional laser treatment principle
The CO2 fractional laser facial treatment uses "focal photothermal action" by emitting a matrix of hair-thin laser beams, evenly spaced with microscopic holes, that act directly on the dermis. When these tiny laser beams are applied to the skin surface. The cellular tissue beneath the dermis is stimulated to a certain extent, forcing its cells to proliferate and align, thus improving the sunken, sagging face. It is a gas laser. Improvements by this means can last for a long time as well, usually around 6 months to 6 years.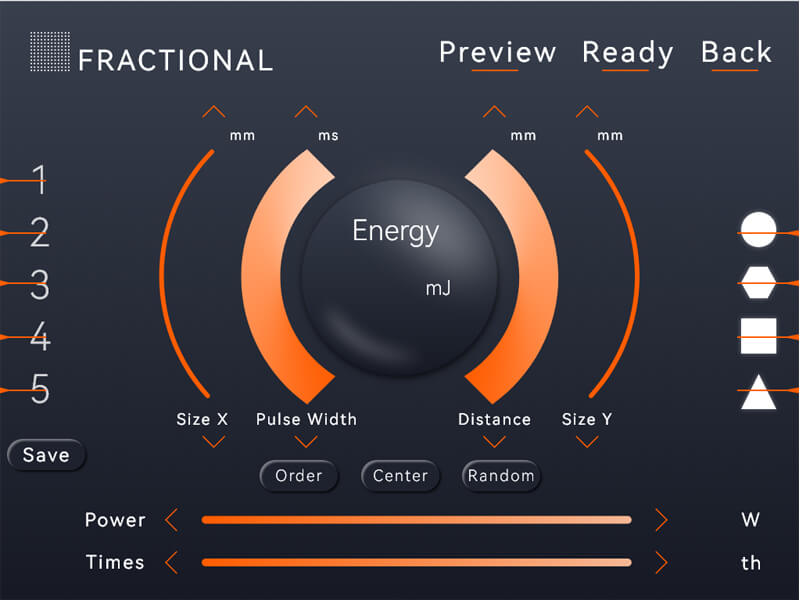 The cosmetic effects of CO2 fractional laser treatment
The CO2 fractional laser facial treatment heats up the water in the cellular tissue to over 100°C. It penetrates deeper into the skin while acting on the superficial layer, when the peak energy is high but causes little thermal damage, because of its own precise irradiation range, it does not appear to affect other surrounding cellular tissues outside the irradiated area, and usually heals in 3 to 5 days. Complications such as hyperpigmentation or hypopigmentation are therefore less likely to occur. The 10600nm wavelength also has a coagulation effect, so although there are minimally invasive wounds, there is rarely any bleeding, and it allows the hollows to rebound for a better aesthetic improvement. After all, a major cause of enlarged pores is reduced collagen and damaged collagen fibre network, and the CO2 fractional laser can emit tens of hundreds of tiny laser dots at the same time. It penetrates into the dermal layer of the skin without damaging the skin's integrity.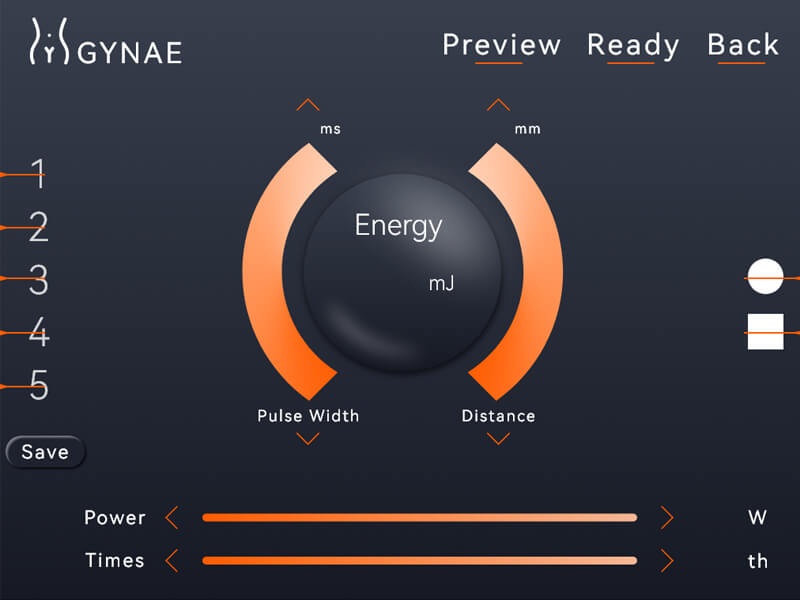 Cosmetic frequency of CO2 fractional laser
Usually every time you have a fractional laser treatment, the texture and activity of the scar will be much better than when it was not done, but to achieve a satisfactory state, you need to do it 3-5 times depending on the situation, some special people even need to do it more times, for example, after a local treatment after 2-3 months of repair ability to reach a relatively good state, there is no need for a second treatment treatment The second treatment is not necessary.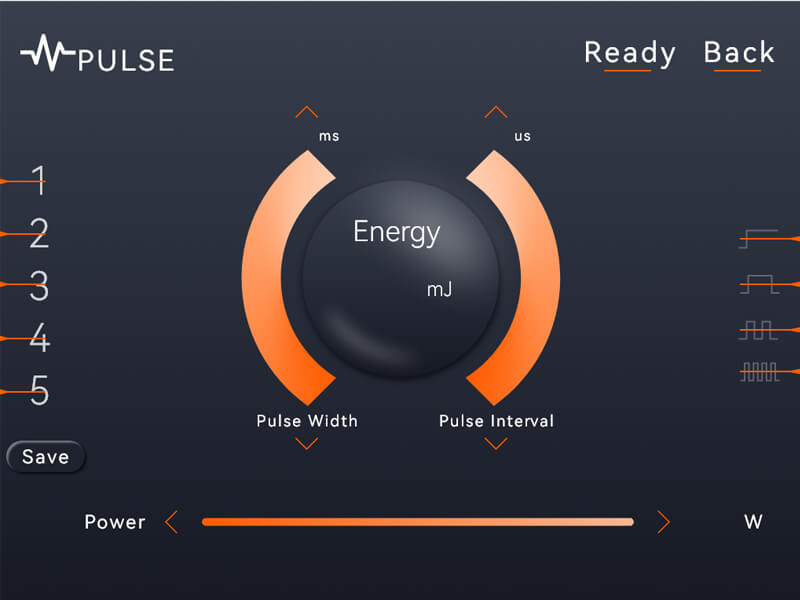 Advantages of the CO2 fractional laser
1. CO2 fractional laserdermatology
The CO2 fractional laser has dominated laser skin resurfacing technology for many years. Traditional peel-off lasers have shown significant results in facial skin rejuvenation and acne scarring, but because of the long healing time and some serious side effects caused by the application of peel-off lasers, many doctors do not choose it as the primary treatment option. It is ineffective if it is shallow and unsafe if it is deep.
2. Reduced skin damage area
Unlike traditional lasers, the CO2 laser itself also has the effect of effectively reducing skin damage, and its post-operative recovery period is much less compared to other laser treatments, and the probability of post-operative complications is also low. The temperature used does not cause the skin to burn due to overheating, and the level of direct access can effectively activate the activity of the cells, thus enabling them to proliferate and regenerate, and to a certain extent solving the problem of photoaging.
3. Customised personalised treatment plan
The CO2 fractional laser has micro-perforations that can be adjusted in diameter and depth, a feature that gives it more possibilities and increases the range of application for many candidates in different states, which in a sense is also equivalent to personalised customisation.
4. Recovery in 3-6 days
Usually the epidermis will heal completely within 8 hours, you can wash your face and shower in 3-5 days and the scabs will fall off in 10-15 days and the skin will return to its normal appearance. And the internal collagen regeneration can take up to 6 months or even 6 years.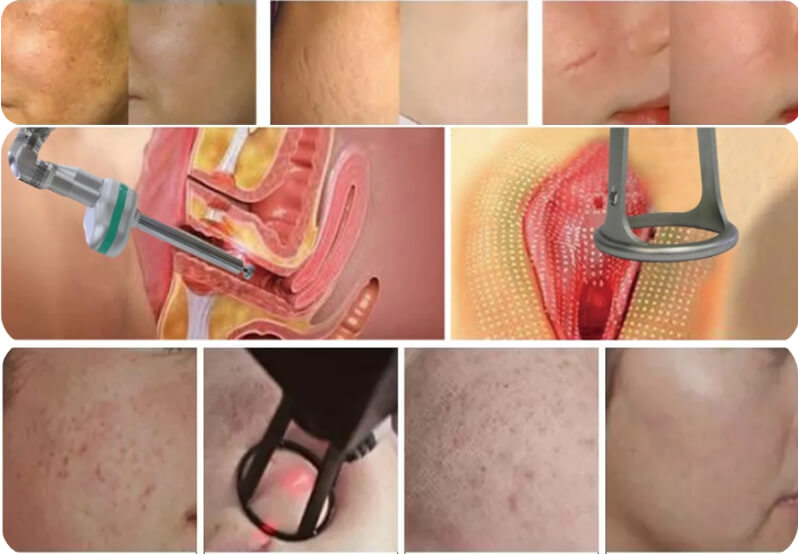 Care methods after CO2 fractional laser treatment
1. Reduce the inflammatory response and shorten the duration of redness and swelling
A mask containing 2% salicylic acid can be applied immediately to provide an anti-inflammatory and analgesic effect. Wipe clean and apply a cold repair mask, preferably one with simple ingredients, containing only water and collagen, to avoid the risk of allergies while playing a role in soothing the fading redness.
2. Treat allergic reactions promptly
Some patients with strong reactions and somewhat sensitive skin should apply ice packs before and after the mask to assist the LED photodynamic red light to accelerate blood circulation for soothing repair. After CO2 fractional laser treatment, use cold gel as a support and barrier for damaged skin.