Who Is Suitable For EmSculpt Treatment
Author:baishilf Time:2022-07-15 14:45:13
Now you know why EmSculpt Hiemt treatment works so well, but you might be wondering what the treatment itself is like. In this section, we'll answer a handful of frequently asked questions about this popular body sculpting treatment.
Bvlaser Bestview is a EmSculpt Hiemt treatment manufacturer, we have professional EmSculpt machine for sale.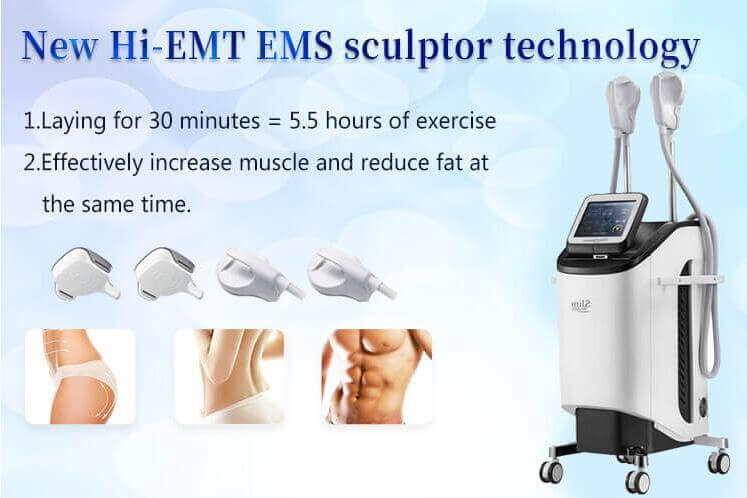 What Is the EmSculpt Treatment Like
The Emsculpt device uses paddles to painlessly direct the HIFEM pulses into the area to be treated. If you're receiving the treatment on your belly, you'll lie on your back. If you want your backside toned, you'll lie on your stomach. Once the paddles are in place, the device will only be turned up as high as you are comfortable with. Obviously, the higher it goes, the better your results will be.
The device will initiate contractions in three phases. The first is a cycle of three seconds of contractions followed by three seconds of rest. Next, there will be five seconds of contractions followed by five seconds of rest. The third and final phase has the device emitting a tapping sensation.
These three phases repeat over the thirty-minute duration of the EmSculpt treatment. Each person's tolerance for the sensation the treatment provides is different, but generally, those who undergo it find it's not painful so much as odd. Your muscles may be a bit sore the next day, but no more so than if you'd done a strenuous workout.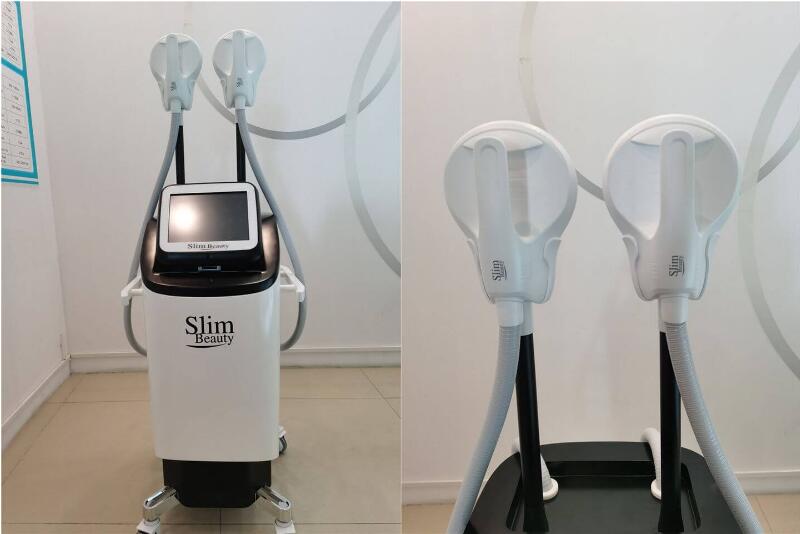 Are the EmSculpt Results Immediate
Just like with exercise, you won't see immediate results with these treatments. Instead, the results will reveal themselves over the course of two months or so. The reason for this, like the results themselves, is twofold.
1. The Nature of Fat Cells
When fat cells break down, they don't suddenly disappear. The body will flush them out over the course of days and weeks, so you will see the treated fat deposits shrink over time. The dead fat cells are excreted by the body as water after being metabolized.
2. The Nature of Muscle Fibers
It takes muscle fibers time to grow. They will grow a bit faster than the fat cells will disappear, so as those cells are sent on their way, they will reveal your newly toned zone. The muscles themselves are even thought to undergo cellular change, becoming thicker and stronger over time. The resulting change is akin to a half year's worth of a strict diet and exercise regimen, at least cosmetically speaking.
In fact, this treatment's ability to strengthen the abdominal muscles can have a few beneficial side effects. Stronger abs stabilize your torso and can help improve posture, and improved posture can in turn help ward off back and neck pain. This treatment isn't guaranteed to provide effects like these, but if you continue to work on your core muscles after your treatment cycle is complete, you may see benefits beyond the cosmetic.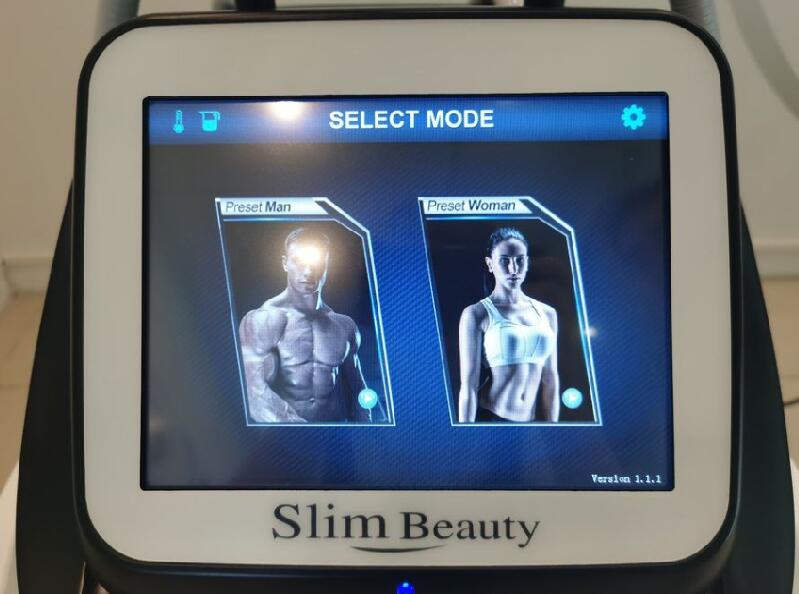 Is EmSculpt Change Permanent
While the effect of this treatment is undeniable and noticeable, it is not any more permanent than any other kind of exercise. If you do pushups every day for a year and then suddenly stop, you'll lose some of that muscle tone. The same goes for this treatment. If you undergo it and continue to work out the treated area regularly, you're far more likely to see your results stick. Otherwise, we recommend coming in once every few months for another treatment to maintain your results over time.
Who Is Suitable For EmSculpt Treatment
While body sculpting treatments like this one can work cosmetic wonders, they do not necessarily improve overall health. For that reason, Emsculpt might not be the solution for every person looking to lose fat from their belly or their behind. Here's who it's likely right for:
1. People in Overall Good Health
It's important to remember that while this treatment can get rid of stubborn fat deposits and tone muscle, it is not a substitute for diet and exercise. It's a body sculpting technique meant to help people achieve the look they want, not a method for medical weight loss. That's why the best candidates for it are those who already have good eating habits and exercise regularly but just can't seem to get the tone they want or get rid of that last little bit of fat.
For some people, pairing this treatment with another fat reduction strategy or therapy will be necessary. Bvlaser Bestview EmSculpt machine for sale can consult with you and help to design an individualized plan to ensure you get the results you're looking for.
2. People Who Want to Get Rid of Fat in Various Areas
Unlike some other body sculpting treatments, this treatment has the ability to address numerous areas. If you are looking to get rid of stubborn fat from multiple areas of the body, you can consult with us to learn more about how this incredible treatment can help.
3. People Who Are Willing to Work to Maintain Their Results
As mentioned above, many people choose to return for a fresh treatment every several months to maintain the look their initial treatments provided. Still, it's important to keep up a healthy fitness regimen and work out the treated area in order to maintain the muscle gain and fat loss this treatment provides.
If you're truly looking for a quick fix but don't want to start a fitness regimen, a different type of body sculpting treatment might be the right choice for you.
4. People Who Have Ruled Out Surgical Options
Most people would much rather go through a non-invasive treatment than a surgical cosmetic procedure. While liposuction and other more invasive procedures can produce more immediate results, body sculpting treatments are far less painful and time-consuming.
With this EmSculpt treatment, you can walk into our office, lie down for thirty minutes, and walk right back out. There's no downtime before or after and no preparation needed on your part. It's so quick and easy that you could do it on your lunch break and head right back to work. Most would agree that waiting a few weeks to see the final results of your treatment is worth the tradeoff in comfort and downtime.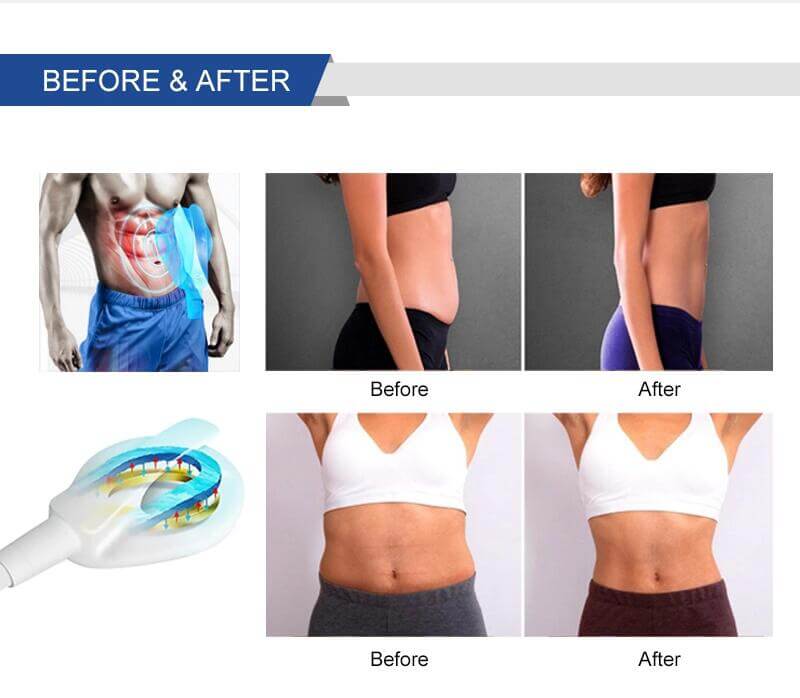 This EmSculpt body slimming fat freezing machine is FDA-approved, and clinical trials show no adverse effects outside of the same mild muscle soreness you'd get after a great workout at your local gym.