Q Switched ND Yag Laser Tattoo Removal Machine Introduction
Author:baishilf Time:2022-02-09 13:59:52
When tattoos are particularly popular, many people want to have one tattoo to make themselves look cool. But with people being mature, they prefer to remove those puerile trails. However, traditional eliminating ways can not meet their needs. The machines that many tattoo shops buy exist various problems, ranging from inconvenient operation and poor effect to short lifetime and imperfect after-sale service. In this case, it is easy for shopkeepers to lose customers when no solution is found.
Bestview is a professional q switched nd yag laser tattoo removal machine in China,  our company has been in this inductry for many over 10 years, so we can provide more profesional solutions for the tattoo removal.
In this post, we will make a complete introduction for you to know about our q switched nd yag laser tattoo removal machine.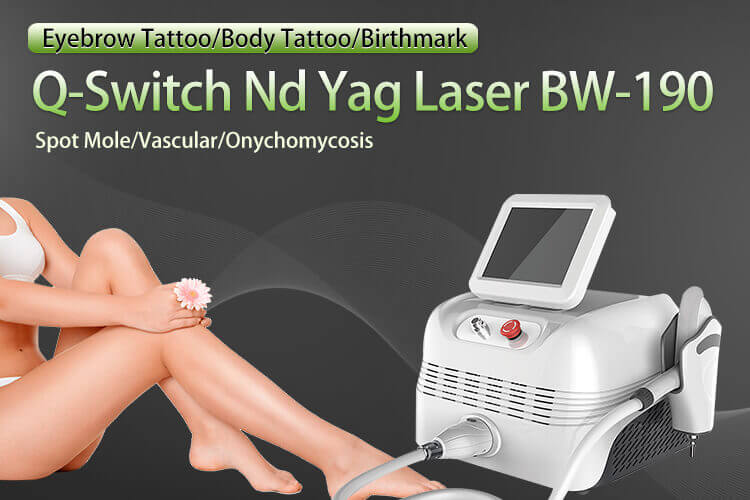 Working Principle of Nd Yyag Laser Tattoo Removal Machine.
YAG laser, the laser permeates the epidermis into the dermis which includes amount of pigment mass. Since the laser pulses in nanosecond with super high energy, the shot pigment mass swell quickly and breaks into small pieces, which will be eliminated through metabolic system.
Q-switched Frequency-doubled Nd:Yag: 532 nm. This laser creates a green light which is highly absorbed by red and orange targets. Useful primarily for red and orange tattoo pigments, this wavelength is also highly absorbed by melanin (the chemical which gives skin color or tan) which makes the laser wavelength effective for age spot or sun spot removal.
Q-switched Nd:YAG: 1064 nm. This laser creates a near-infrared light (invisible to humans) which is poorly absorbed by melanin, making this the only laser suitable for darker skin. This laser wavelength is also absorbed by all dark tattoo pigments and is the safest wavelength to use on the tissue due to the low melanin absorption and low hemoglobin absorption. This is the wavelength of choice for tattoo removal in darker skin types.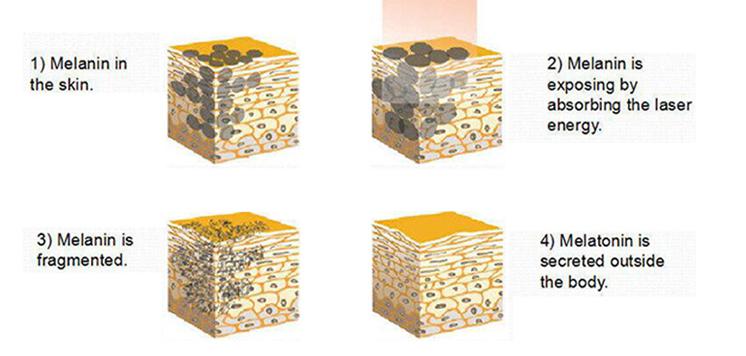 Features of Nd Yag Laser Tattoo Removal Machine:
Safe and without wound; 

Short treatment period, effective result will be seen after first treatment

Remove pigmentation without side effects or scar

Portable and aseismatic, convenient for transportation

User friendly interface with LCD display; Easy to operate

Special designed cooling system ensures constantly working
Advantages of Nd Yag Laser for Tattoo Removal Machine
Easy to operate

Safe and non-ablative: no pain and no side effects

Significant result: whitening of the skin, rejuvenation of the skin, adjustment of the pores of the large skin.

Effective cost: compared to injection and plastic surgery, it is low cost but effective.

The carbon of the Nano class has excellent absorption properties for light of 1064 nm, improving the thermal effect of the skin for the rejuvenation of the skin.

Provide multifunction machine, such as SHR + Nd Yag Laser, E-light + Nd Yag Laser, SHR (E-light) + Nd Yag Laser + RF.
Application and Fuctions of Nd yag Laser Tattoo Removal Machine
Get rid of tatoos ,eyebrow,nevus .

Pigmentation treatment

Vascular treatment.

Professional tatoo removal machine for sale

Body Tattoo & Eyebrow Tattoo & Eyeliner Removal

Various Pigmentation Lesions such as Freckles, Sun Spots

Color Spots, Age Spots, Nevus, Birthmarks

Deep Facial Cleansing & Rejuvenation Assisted With Carbon Cream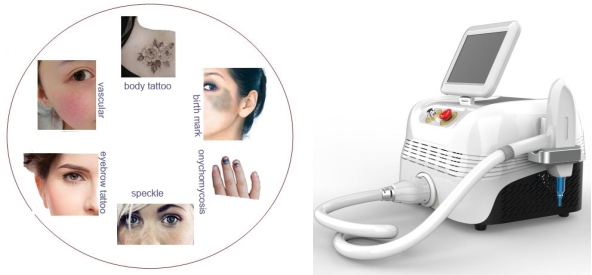 Nd Yag Laser Tattoo Removal Machine Installation Video:
TAG:  nd yag laser tattoo removal machine