Velashape Body Slimming Machine BM-906
1. Body Contouring
2. Cellulite Removal
3. Body Slimming
4. Skin Tightening
5. Wrinkle Removal
TAG:
Properties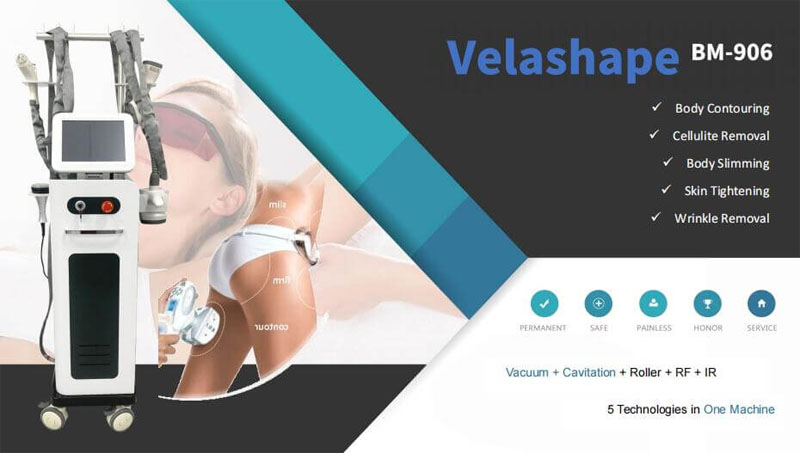 The Velashape combines five different technologies including IR (Infrared laser), Bi-polar RF, massage roller, vacuum and ultrasound cavitation.
*The combination of IR, vacuum and RF cause deep heating of the fat cells, their surrounding connective tissue and the underlying dermal collagen fibers.
*This type of efficient heating and vacuum stimulates the growth of new and better collagen and elastin which results in localized reduction in skin laxity, body volume, and an overall improvement in skin structure and texture.
*The massage roller causes an immediate increase in circulation and lymphatic drainage, both essential components for healthy skin structure.
*Ultrasound cavitation provides real, measurable results, which is a cosmetic procedure that's used to break apart fat deposits in your body. The treatment is effective, less invasive, safe.

5 Technologies in One Machine:
*Bipolar RF (radio frequency)
Heats up the skin tissue for lifting and firming results.
*940nm Infrared Light
Warms up skin tissue fast to reach a great lipolysis result.
*Mechanical Roller Massage
The positive rolling grasps and massages the skin tissue gently and continuously.
*Cavitation
Work on the up-sucked fat tissue. Safer and more effective.
*Vacuum Massage
Stimulate the growth of new and better collagen and elastin.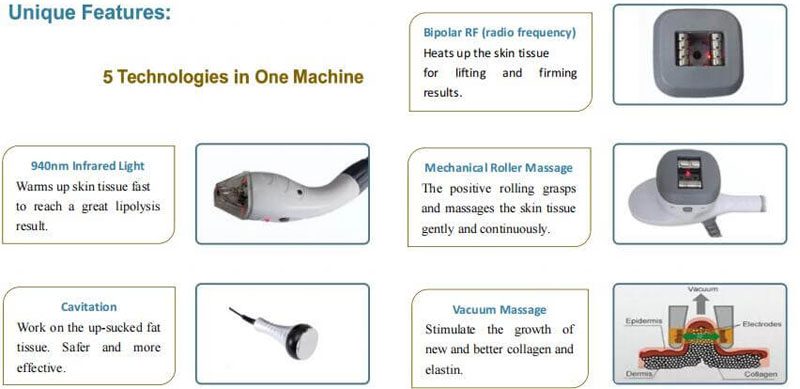 TAG:
Parameters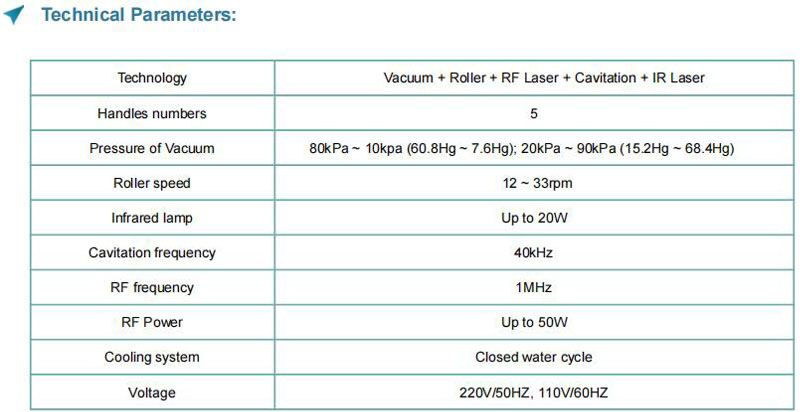 TAG:
Intended use

* Body Contouring.
* Cellulite Removal.
* Body Slimming.
* Skin Tightening.
* Wrinkle Removal.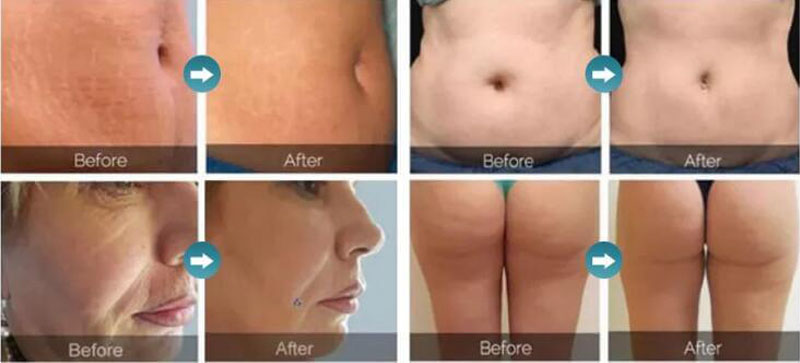 TAG:
Inquiry
Products
HOT PRODUCTS
Contact Us