Effect contrast: which one is better, IPL hair removal or Laser hair removal?
Author:baishilf Time:2016-12-30 11:33:05
With the development of technology, the categories of hair removal technology is increasing continously which means patients is faced with more choices. Thus for photon hair removal and laser hair removal, which is better? Let's find it out.
Actually, it is quite difficult to choose a better one because both the effect of the two is good. According to the senior engineer's explantion of BESTVIEW R&D Department, intense pulsed light (short as IPL) of photon hair removal is filtered wide spectrum light, ranging from 530nm to 1000nm.

The shorter wavelength light of the range is used to cure pigmented and vascular lesion, while the longer wavelength light is applied in skin rejuvenation. For instance, the hair removal machine of BESTVIEW, IPL SHR BW-187, is designed to solve hair problems. The intense pulsed light emited by the machine can penetrate into the deep layer of the skin, aiming at the target tissue effectively. The skin pigment and red blood capillary would be broken by the photothermal effect generated after they abosrbing the energy of the photon selectively, being decomposed and absorbed by the human body afterwords. IPL stimulates the collagenous fiber and elastic fiber of the skin to regrow and rearrange, increasing the elasticity of the skin, eliminating the wrinkles and diminishing the pores at the same time.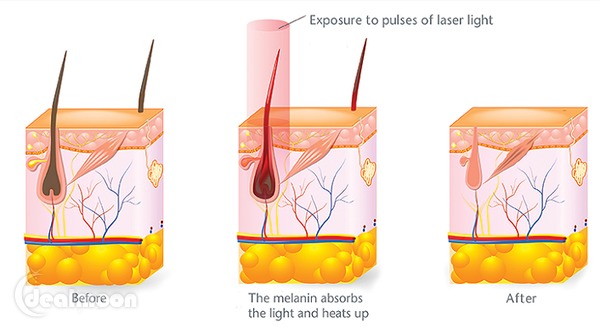 The intense pulsed light produced by laser hair removal is wide spectrum light, ranging from 610nm to 1000nm. The treatment theory of Diode Laser BM-108, the machine produced by BESTVIEW, is that the photothermal effect, generated by the pigments in the hair shaft and the hair follicles absorbing the photon energy, will force the hair follicles to change throguh high heat. Permanent hair removal effect can be achieved by the dying of hair growth cells. Addtionally, the treatment head also possesses the function of rejuvenation. Both photon hair removal and laser hair removal are effective methods to remove hair.
In fact, the treatment theory of the two are same, which is selectively damage the hair follicles to achieve the goal of hair removal. Photon also belongs to IPL, and there is not any big difference between photon and that of the sunshine except the strength. Besides, photon also can have the same hair removal effect just like the laser.