Products
HOT PRODUCTS
Contact Us
Add:No.6 Yongxing Road, Yangjin Industrial park, Jinshui District,Zhengzhou,China
Tel:+86 135 2670 5829
Email:
info@laserbestview.com
Skype:+86 135 2670 5829
Diode laser BM-M108
Product Category : Laser Hair Removal Machine
Diode Laser Permanent Hair Removal Machine Advantages.
1. Adjustable: Remarkable design allows operators to adjust pulse width according to skin colors and treatment areas.
2. Optimal: 808nm light is optimal for hair removal.
3. Cooling: Patented sapphire cooling device lowers the epidermis temperature to -10℃~0℃, which protects patients from pain and skin damage.
4. Fast: Large square spot accelerates the treatment speed, not only enhancing efficiency but also eliminating the overlapping defect of traditional circle spot.
Properties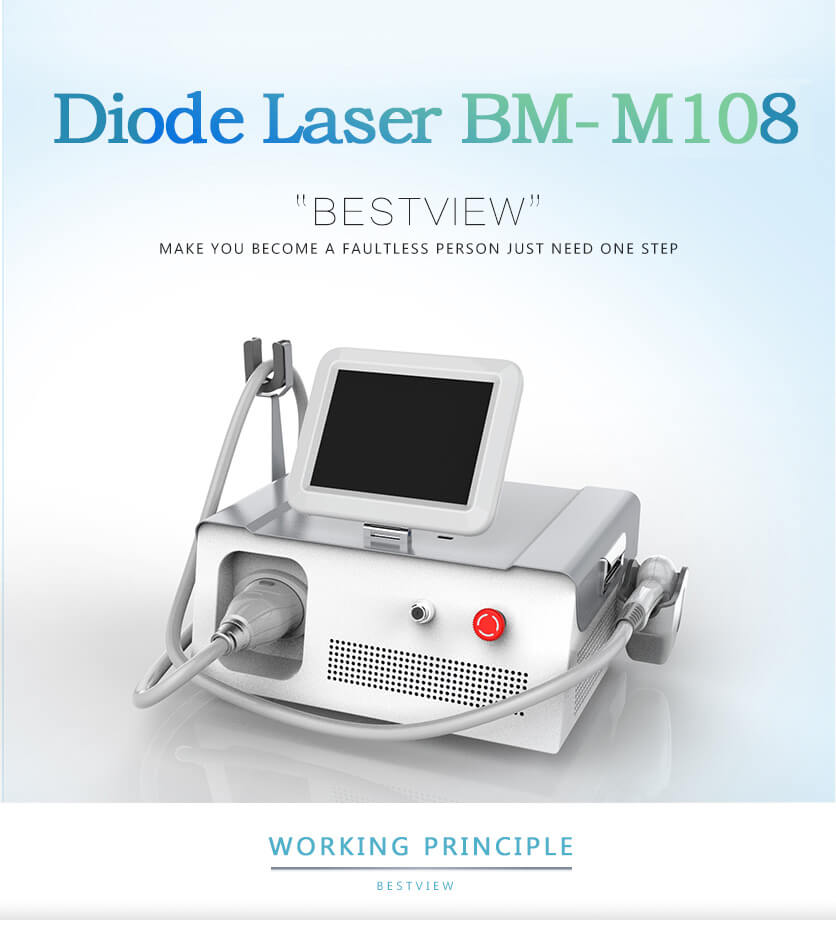 Working Principle of the Diode Hair Removal Machine:
Diode Laser Permanent Hair Removal BM108 is the most complete and effective laser hair removal machine available today,the working principle of this machine is that the system involves a beam of concentrated light and heat which is directed into the hair follicles.Therefore it can get to the melanin contained in them. The pigment absorbs the laser energy and will be destroyed so as to inhibite hair growth in the affected hair follicles. The laser energy is directed at these follicles while simultaneously protecting the surrounding skin from harm.

The Features of this Permanent Hair Removal Machine:
1.Virtually painless
2.Proven safety record
3.Simultaneous contact cooling
4.Apply for the kinds of hair types and color
5.Shorten the treatment time
6.Portable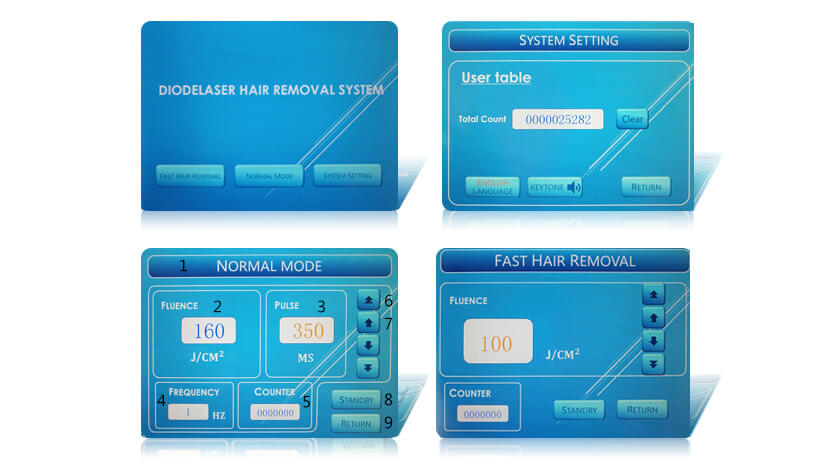 Simple Screen Design:
The screen design of this 808nm hair removal machine is very simple:
Two modes in the main interface.(FAST/NORMAL)
The every sign meaning of normal mode as follows:
9

Return to main interface
The same sign of fast mode shares the same meaning as normal one.
Disclaimer: The effects of Our Users. Specific effect vary from person to person. It can not guarantee 100% of the effect of the treatment.
Parameters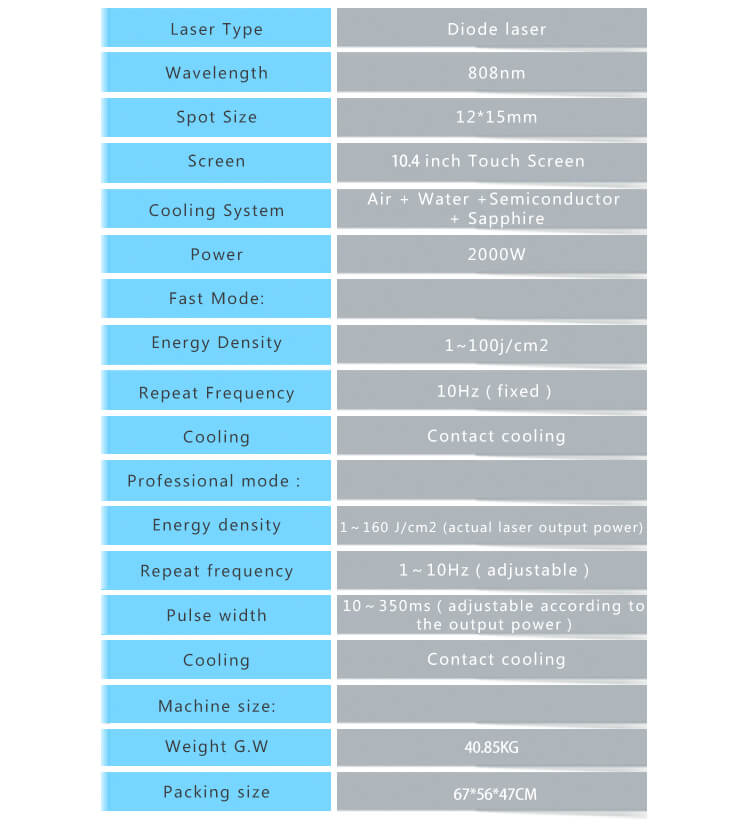 Intended use
Application:
* Hair removal on all 6 skin types,including dark skin.Suitable for any unwanted hairs on areas,like face,arms,armpits,chest,back,bikini,legs...
Comparison Photos: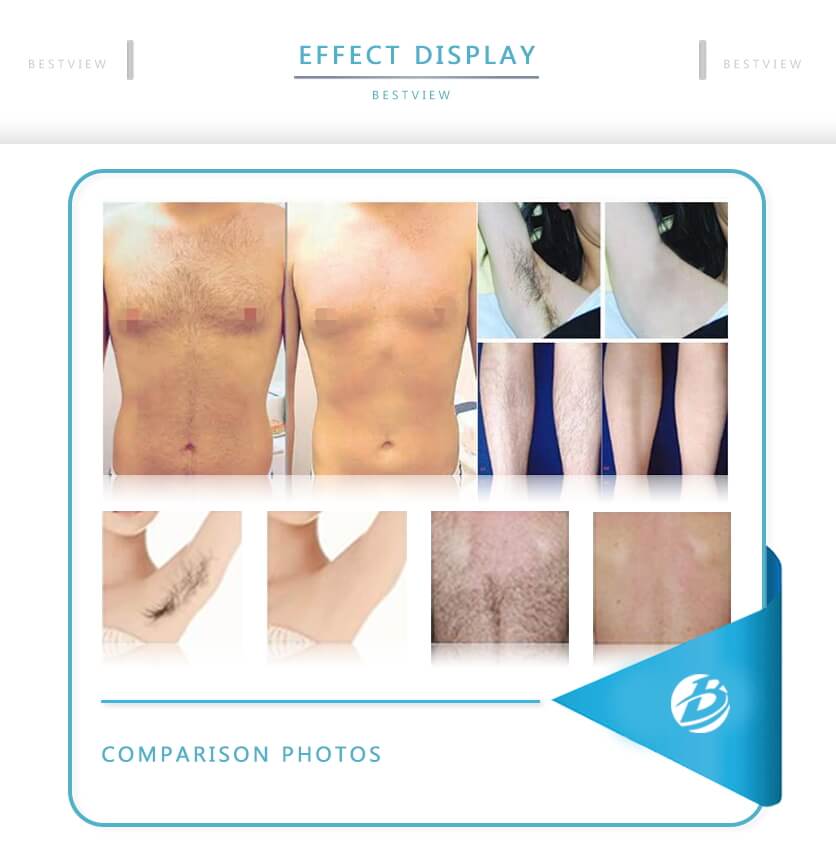 Inquiry