Cryo+ EMS 2 in 1 Body Shaper Machine
*Two technologies: Cryo + Mag, safer and more effective
*4 treatments paddles for all parts of the body to help you build a perfect body
*Saving time and effort, only lying down for 30 minutes
*Non-invasive, no recovery period, refuse to rebound
TAG:
Properties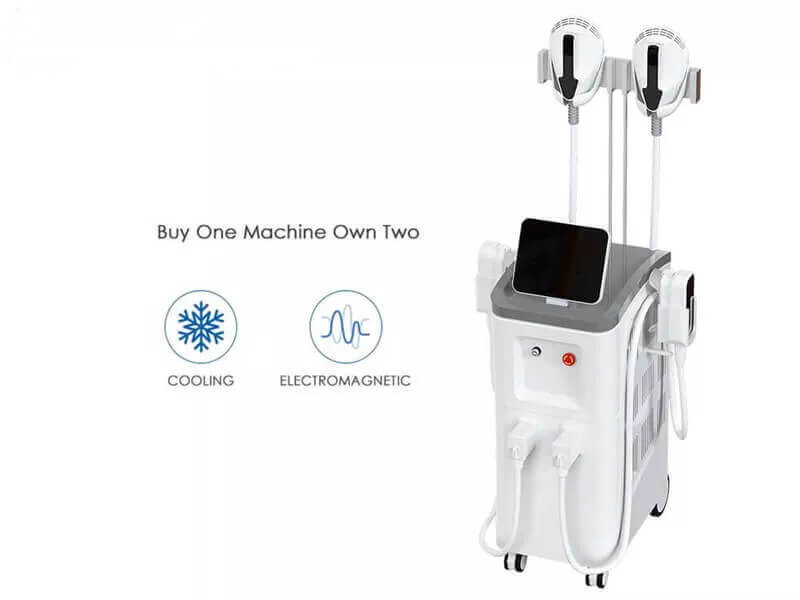 Cryolipolysis + Magnetic Pulse Sculptor technologies, not only remove stubborn fat efficiently but also increases muscle density in the treated area.
Cryolipolysis will work for you. Cryolipolysis, or fat freezing as you know it, is used to freeze the fat cells in the treated area. After treatment, the body naturally eliminates the dead fat cells, which can result in a 20-25% reduction in stubborn fat in the treated area.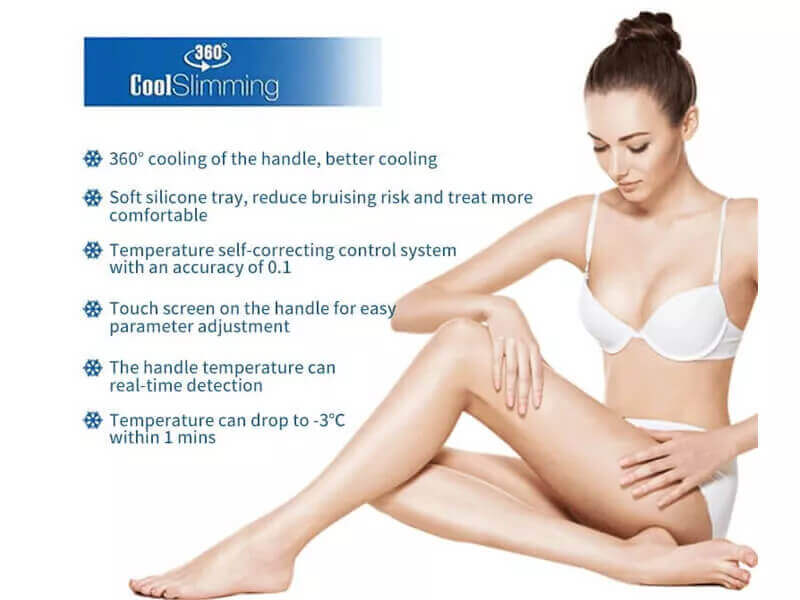 Magnetic pulse Sculptor uses a specific range of frequencies that do not allow muscle relaxation between two consecutive stimuli. Muscles are forced to maintain a contracted state for several seconds. When repeatedly exposed to these high-load conditions, muscle tissue is forced to adapt under pressure. Studies indicate that one to two months after magnetic pulse PRO treatment, patients' average abdominal muscle thickness increased by 15% ~ 16%.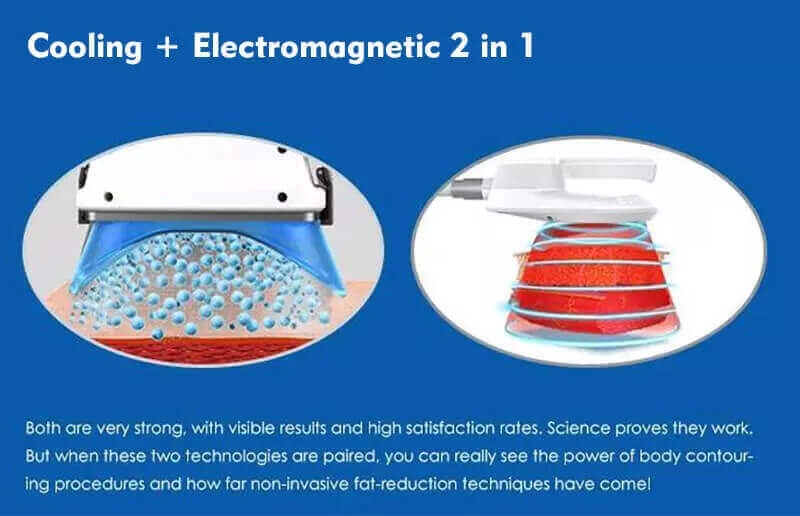 Unique Features:
*Combine TWO technologies (Cryolipolysis and Electric Muscle Stimulation) in ONE machine. One side freezes up fat through constant low temperatures, while the other side firms up the body with the integrated Electric magnetic function.
*With a wide of aplications, such as fat reduction, muscle gain, skin enhancement, etc
*4 treatment handles (2 CRYO + 2 MAG) optional, can meet the needs of clients for simultaneous treatment of multiple areas
*Selective, non-invasive, safe, and effective methods to reduce local fat, no downtime
*Fast treatment for most body parts, such as biceps, triceps, abdomen, calves, etc
Magnetic pulse body shaper:
Magnetic pulse adopting High Energy Focused Electromagnetic Wave technology to continuously expand and contract autologous muscles and carry out extreme training to profoundly reshape the internal structure of the power. The growth of muscle fibrils (muscle enlargement) produces new protein chains and muscle fibres (muscle hyperplasia) and then increases muscle density and volume.

The 100% extreme muscle contraction of magnetic beautiful muscle technology can trigger a large amount of fat decomposition. And fatty acids are broken down from triglycerides and accumulated in fat cells. The concentrations of fatty acids are too high, causing the fat cells to apoptosis, which is excreted by the body's normal metabolism within a few weeks. Therefore, the Slim Beauty Machine can strengthen and increase muscle, and reduce fat simultaneously.

Cryolipolysis:
Cryolipolysis is a proven procedure to reduce fatty cells by using the Integrated Technology of cryo, vacuum, and IR (infrared light). Its principle relies on controlled cooling for the non-invasive local reduction of fat deposits to reshape body contours. The exposure of cooling is set so that it causes cell death of subcutaneous fat tissue without apparent damage to the overlying skin.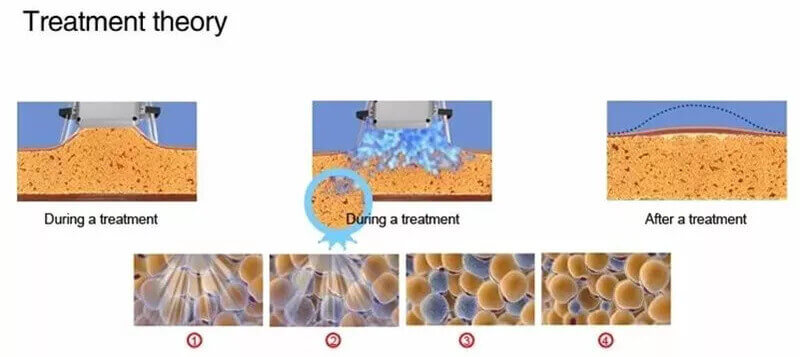 The system is a non-invasive cryo-cooling treatment, and the combined therapy of Cryo and Vacuum performs effectively removes localized fat and promotes fat metabolism.
TAG:
Parameters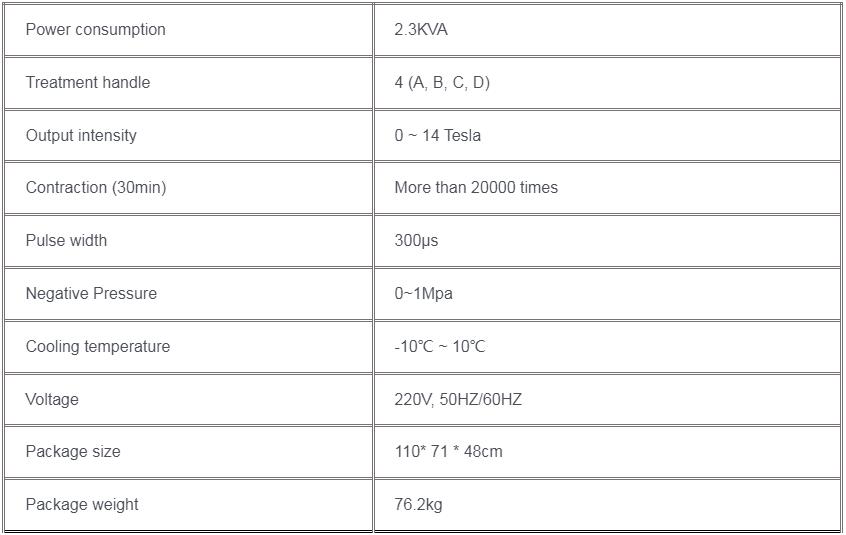 TAG:
Intended use
1. Body Shaping
2. Muscle Building
3. Weight Loss
4. Skin Tightening
5. Cellulite Reduce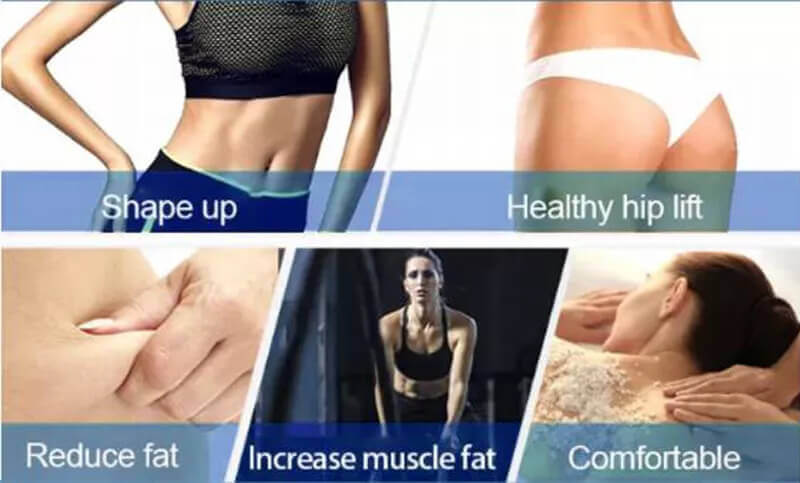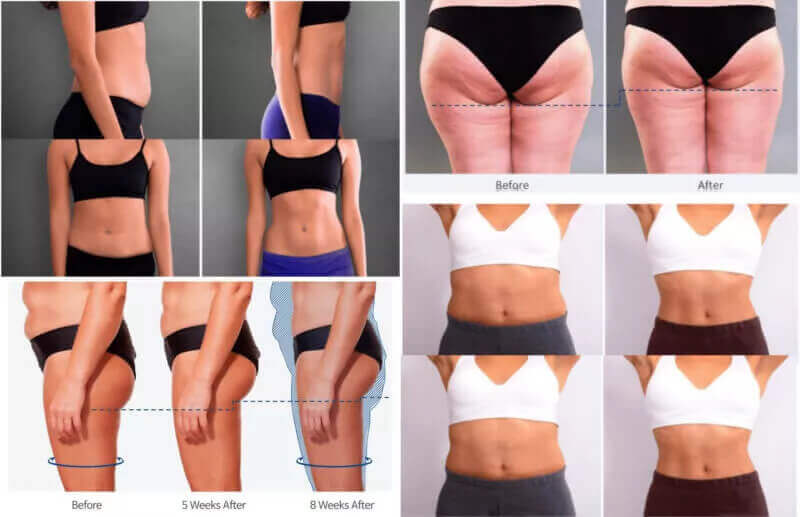 TAG:
Inquiry
Products
HOT PRODUCTS
Contact Us