All Things You Need To Know About The Picosecond Laser Machine
Author:baishilf Time:2023-09-19 13:34:10
Picosecond laser tattoo removal machine is very popular, because it can remove a lot of skin problems, such as tattoo removal, acne scars removal, wrinkle removal, pigment removal, etc. Multi-applications, effective treatments, that's why the best picosecond laser is welcome than other lasers.
Bestview is a professional picosecond laser manufacturer in China, we have our R&D department to develop new picosecond laser machines for different kinds of skin problems. In this article, we will share with you all things about the best picosecond laser. If you are interested in our OEM picosecond laser machine, welcome to contact us, we will get back to you within 12 hours.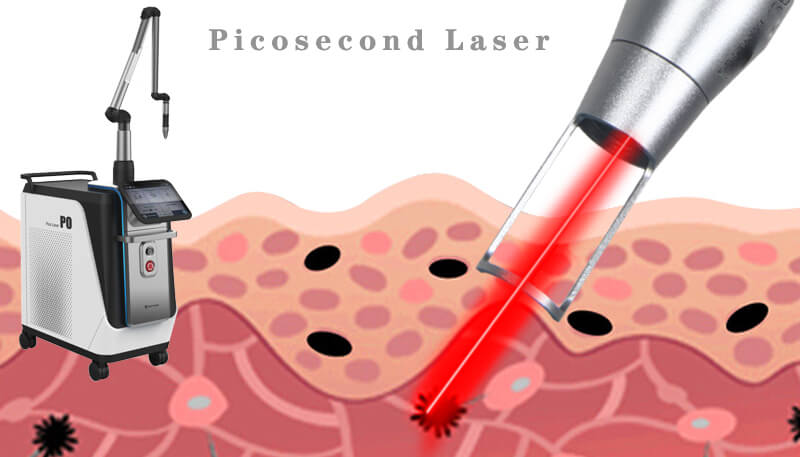 1. What is a picosecond laser?
A picosecond is the world's most advanced honeycomb laser freckle equipment, is the use of picosecond laser ultra-fast speed of melanin particles smashed into powder, and then by lymphatic metabolism, to achieve the freckle effect. The unique picosecond honeycomb head is more targeted at melanin, softer on the skin, and can shatter melanin instantaneously.
2. Can the spot be removed?
Picosecond laser uses very short pulse output mode, uses the benefit of the photomechanical shock wave to replace the thermal effect, shatters the target into the smallest particles, and reduces the side effects of the photothermal effect to, can achieve almost all kinds of pigment spot purpose. Fine melanin granule metabolizes faster, the facial ministry can present white bright skin qualitative response naturally.
3. Side effects? Can the skin get thinner and thinner?
No side effects, because the treatment time is picosecond level, 1000 times faster than traditional laser instruments, and at the same time only for melanin, before it has time to destroy the surrounding skin, the treatment is over, so there will be no side effects. Picosecond laser crushing melanin blasting force is very strong, to make a metaphor, compare the color spot to a stone, laser freckle instrument need to do 10 times to treat, picosecond only needs to be 2 to 3 times, so that the skin does not need repeated stimulation and repair, so the skin will never become thin.
4. Does it hurt?
In the treatment process, there will be a prickling sensation, the pigment distribution will be more obvious, but the speed will be very fast, 5-10 minutes will be over, and the pain is completely bearable.
5. Will it redness and swelling? Does it affect getting to work?
It won't redness, it won't affect your work, and you won't blush after you finish it. In addition to the individual constitution, the cuticle thinner skin will have reddish symptoms. It slowly recedes after 12 hours.
6. Will there be scabs after you finish?
Can scab wants to see the type of spot, some spot wants to do burst, some spot need not burst. If you want to burst the spot will scab, but the skin seconds do spot scab is very thin, basically do not see the scab, 3 days to a week or so will fall off naturally.
7. When can I wipe my face after picosecond laser treatment?
If it is the spot without blasting, you can wipe your face normally the next morning. If the spot with blasting is scab off, you can wipe your face normally. (Do not use hormone-related products to wipe your face after skin second freckle removal, but cooperate with professional repair products.)
8. How long will it take to see the results?
It depends on whether the spot should be exploded or not. If the spot is exploded and the scab is removed, the effect can be seen. If the spot is not exploded, the effect can be seen after one month.

Postoperative precautions
1. There will be slight redness, swelling, heat, and pain at the treatment site on the day of dermis freckling, which is a normal phenomenon.
2. Some lesions will have scab skin, this is usually in 7 to 10 days after the spontaneous fall, pay attention not to use your fingers to scab away, you can use special cosmetic oil to soften the natural fall off.
3. Do not wash your face within 24 hours after freckle removal, and use professional medical-grade cleaning products after 24 hours.
4. After receiving laser freckle removal treatment, apply professional repair products on the treatment site.
5. Sunscreen is very important,the treatment site will be very sensitive to the sun, after treatment to apply professional physical sunscreen. At the same time try to avoid exposure to strong light. (Medical grade sunscreen is recommended) and do not sweat and steam for 20 days.