Triple Wavelength Laser Hair Removal Machine For All Skin Colors
Author:baishilf Time:2022-02-09 09:45:39
Do you know what laser wavelength is suitable for different skin colors? Different laser wavelengths can work differently on hair removal. Our company Bestview is a professional
diode laser hair removal machine
manufacturer in China. We have our R&D laser development department and can custom the machine as per your requirement. 
The Alexandrite laser: recommended for treating pale skin types (skin I-III) with fine hair. The 755nm laser is characterized by more powerful melanin absorption, making it suitable for light-colored and thin hair. In this way, this wavelength aims to remove the hair on such areas as eyebrows, upper lip, etc.
The Diode laser: recommended for treating all skin types, particularly patients with a great density of hair and first session. The 808nm laser can penetrate into the subcutaneous fat tissues and deep dermis to act on various body parts, making hair removal at any depth realized in an express and particular way.
The Nd.YAG laser: indicated for treating dark skin types (IV-VI). With the features of lower melanin absorption yet deeper penetration in follicles. The 1064nm laser mainly provides solutions for dark hair color. In other words, this longest wavelength focuses on the treatment areas like the scalp, armpits, bikini line, etc.

Sometimes we need diode or alexandrite laser. Compared with traditional machine, our laser hair removal equipment has not only the two options but the ND.YAG laser for your choosing. The diode laser hair removal has given way to the Three-wavelength laser hair removal machine!
Applications of the triple wavelegnth diode laser machine:
Permanent hair removal for all kinds skin types (I, II, III, IV, V, VI.)
Apply for almost of body areas such as lip, beard, chest, armpit, back, arm, legs, etc.
SKIN TYPE I: This is a very fair skin.The individual has light-colored eyes and blonde or reddish hair color.They are very sensitive to the sun and burn easily whenever exposed,but they never tan.
SKIN TYPE II: This is a light complexion,light-colored eyes,blonde,reddish or light-brown hair color.They are very sensitive to the sun,burn easily and it can gradually build a tan.
SKIN TYPE III: This is a medium complexion light to dark eye color and usually brown or darker hair color. Sensitive to the sun, rarely burns and always tans well.
SKIN TYPE IV: This is a darker complexion, dark eyes, usually dark brown to black hair color.Moderately sensitive to the sun,rarely burns and always tans well.
SKIN TYPE V: This is a dark complexion, Middle Eastern, Indian skin. Dark eye color, usually black hair color. Minimally sensitive and always tans.
SKIN TYPE VI: This is a black complexion, black eyes and black hair color.It is least sensitive to the sun and never burns.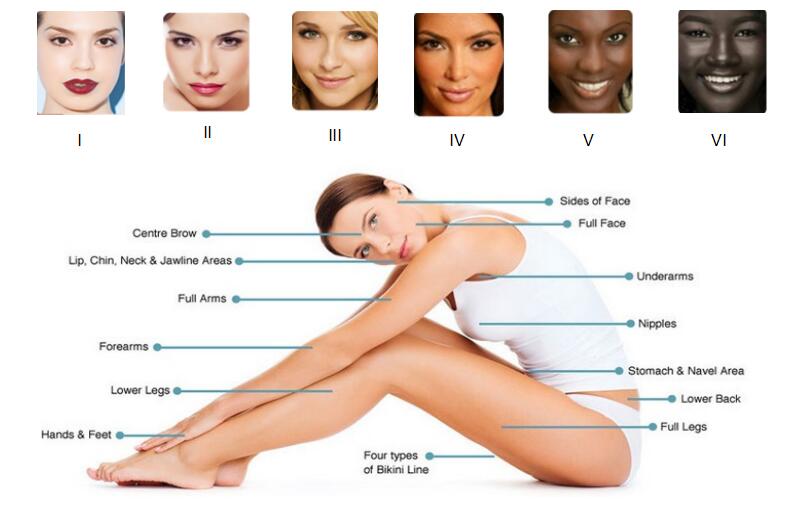 Advantages of the triple wavelegnth diode laser machine:
Safe, efficient and permanent hair removal.
Three wavelengths – 755nm, 808nm, 1064nm integrate in the one device.
Perfect for all skin types (I, II, III, IV, V, VI) and all hair types such as thick, thin, black, gray, blond, brown, etc.
15mm * 15mm or 20mm * 20mm large spot size, you can choose them according to your needs.
10 high-quality laser bars imported from "USA-COHERENT" provide enough and stable energy, ensuring good treatment effects. 
The laser generator can fire up to 50 million shots, long sever life.
Cooling system: semiconductor + wind + microchannels water outlet + sapphire + TEC, guarantee no pain and comfortable hair removal experience.