OEM picosecond laser portable
Author:baishilf Time:2023-07-18 13:48:06
Laser and picosecond laser are both technologies that use the energy of photons to perform treatments, but their principles and results are different. A laser is a monochromatic (fixed wavelength), unidirectional (highly directional), coherent (wavefront coherence), and high-intensity (high power density) beam of light. Laser treatments are usually used for tissue removal, scar repair, etc. and are mainly performed by localised thermal effects. Picosecond laser, on the other hand, is an ultra-short pulse laser technology with a pulse width of only picosecond level (1 picosecond = 1 trillionth of a second), which is hundreds to thousands of times shorter than the pulse width of traditional lasers, and the energy is more concentrated, so that it can accurately act on specific layers of the skin to carry out stimulation, repair, regeneration, and other aspects of the treatment. Picosecond laser is effective in improving skin quality, reducing wrinkles, and fading pigmentation and scarring. Therefore, laser and picosecond laser differ in terms of treatment principles, efficacy and scope of application.
Bvlaser is a china picosecond laser in laser beauty equipment manufacturer, we have OEM picosecond laser portable for sale. As a professional picosecond laser manufacturer, if you want to wholesale laser picosecond, welcome inquiry us!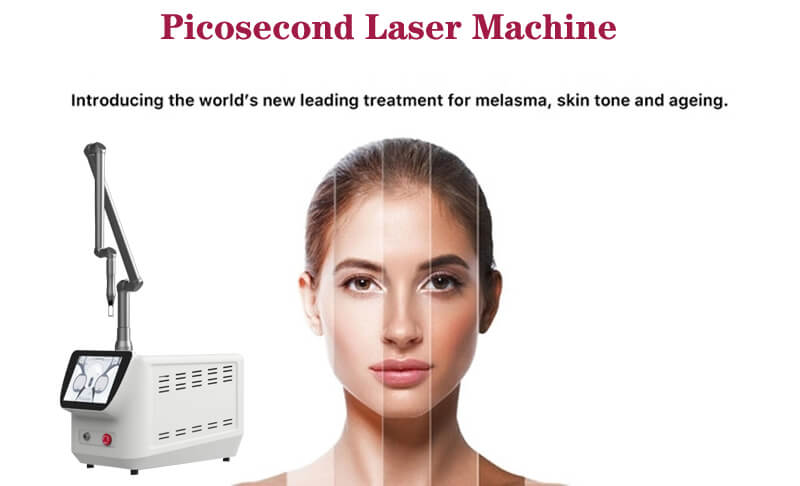 Difference between laser and picosecond laser
In fact, picosecond laser is a kind of laser, which is an enhanced treatment of laser, inheriting the advantages of laser treatment to a certain extent, but with certain innovations on that basis. On the whole, the difference between picosecond laser and laser is mainly manifested in these aspects: 1. The wavelength is different, because the principle of picosecond is to send out a beam of large energy in a short time to irradiate spots, so the wavelength of picosecond is longer than that of laser, which is usually around 755 nanometres, so picosecond surgery is a bit stronger than laser in removing spots, and it can get rid of more and deeper spots, such as chloasma It can remove more and deeper spots, such as chloasma, sun spots, etc., and can help beauty lovers achieve the purpose of restoring flawless skin in a short time. 2. Different safety, in the process of treatment, the time of laser spot removal contacting the skin is a little bit longer than that of picosecond laser, and the prolonged contacting of laser with the skin will lead to redness, swelling and scalding, etc., so the safety of the laser treatment is lower than that of picosecond laser.