Diode Laser SHR Nd Yag Laser Multifunctional Machine Introduction
Author:baishilf Time:2022-02-09 11:02:53
Many of our spa customers asking that if we have multifunction machines because their customers usually have several needs, like hair removal, body slimming, tattoo removal, etc. 
Multifunction beauty machine is very suitable for spas to attract new customers with a limited budget. This post we will introduce a
multifunction beauty machine
, which has a diode laser, SHR, Nd YAG laser. 
BEST VIEW is a professional beauty equipment manufacturer with an independent R&D department and a large number of research and development results, such as SHR + Diode Laser + ND.YAG multifunctional machine, which is one of world-renowned beauty equipment.
SHR + Diode Laser + ND.YAG's multifunctional machine came out and attracted a large number of customers. Let us know it more!
Mahcine Features 
Fast hair removal, fire up to 10 times/second (1-10 HZ), as fast as Diode Laser.
Lamps imported from Germany, 400000-500000 shots can be reached.
Big spot size 15*15mm or 20*20mm optional.
12 best-quality laser bars imported from "USA-COHERENT".
The laser generator has 50 ~ 80 million shots, a long lifetime.
Safe permanent hair removal on all skin types (I, II, III, IV, V, VI).
3 types of laser, 532nm/1064nm/1320nm. Suitable for all skin types and tattoos.
Maximum power 1600mj can be reached. Others are only 1000mj.
This laser can fire up to 10 times/second (1-10Hz), but the normal laser is only 1-5Hz or 1-6Hz. Its treatment is much faster.
Multiple functions optional meet customers' different treatment requirements

Apply for all skin types (I, II, III, IV, V, VI) and hair colors

Greatly reduce the cost of production and storage space

Non-invasive, safe and convenient
 Hair Removal
Skin Rejuvenation
 Pigmentation Therapy
Vascular Therapy
Acne Therapy
Wrinkle Removal
Tattoo                  
Black Doll                      
Nevus of Ota  
Freckle                                                                           
Birthmark
Onychomycosis
Mahcine Parameters: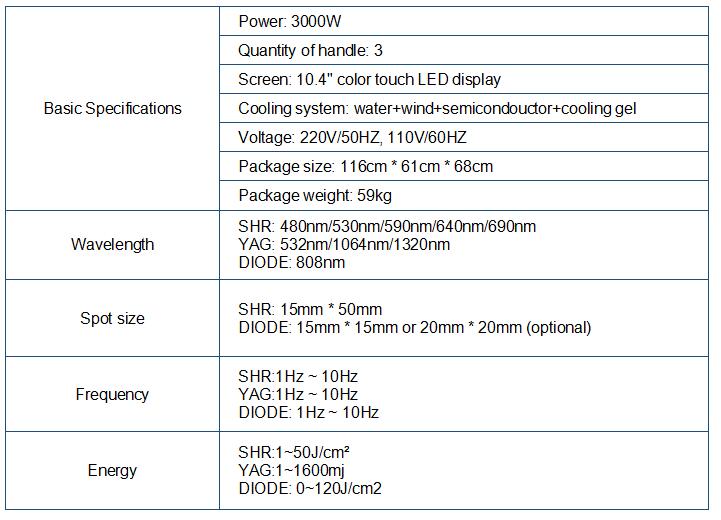 Machine Photos Display
TAG:  multifunction beauty machine