Do you really know the Picosure laser machine?
Author:baishilf Time:2022-01-10 13:08:17
Picosure laser machine, the first and leading choice for comfortable and convenient tattoo removal and skin revitalization treatments for wrinkles, acne scars, and pigments like freckles, sunspots, and discoloration. 

Picosure laser machine is the first of a new generation of aesthetic lasers that don't rely solely on heat to burn or melt away unwanted tattoo ink or melanin, the pigment that causes dark spots in your skin. Instead, the engineers used cutting-edge physics and medical science to help practitioners treat patients in a new way. Instead of building up heat, Picosure delivers energy so rapidly (in trillionths of a second) that tiny particles that makeup the pigment and tattoo ink vibrate and shatter, without burning surrounding tissue. Less heat means less tissue damage and discomfort.
Picosure laser treatment:
Best for people who want to reduce the appearance of skin discoloration, fine lines, dark pigments, or acne scars without experiencing long downtime and discomfort that may be brought about by traditional lasers.
SP Mode: Remove all kinds of tattoos, like eyebrow tattoo, eye line, lip liner, eyelid tattoo, etc.
PTP Mode: Remove freckles, superficial and deeper speckles, age pigments, birthmarks, etc.
LP Mode: Cure acne scars and pores missing, etc.
Picosure laser before and after: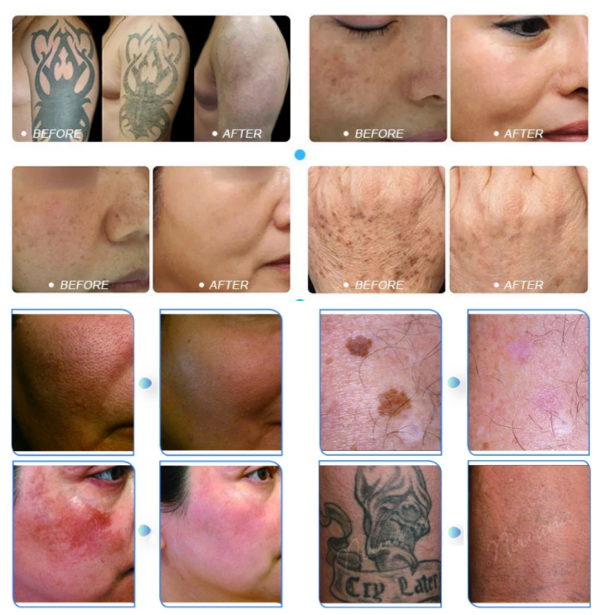 In order to get good treatment effect, please pay attention to the following:
There are no wounds created after treatment but only with very short downtime.

Potential redness may appear within 24 hours after treatment which usually disappears within a few hours after treatment. Cold compresses are helpful to reduce discomfort.

After laser treatments for removal of tattoos and unwanted pigment, the skin is more vulnerable to sunlight so minimizing sun exposure and use of sunscreen of SPF30+ is recommended.

Avoid rubbing or scraping the treated area, which easily causes wound infection.

Avoid bathing, hot baths, saunas, and high-temperature environments within a week.

Wash the treated area with neutral soap. Do not rub or use rough sponges in these areas. Gently press the area with a clean towel to dry it, do not drag immediately after washing.
Picosure vs Q-switch laser difference
Q-Switched Nd: YAG Laser is one type of laser that releases light beams in pulses per nanosecond. When focused on a targeted area of the skin, the beams work to destroy the overproduced pigments into smaller particles. These particles are then absorbed by the body and released by the immune system as waste. This type of laser is highly recommended for pigmentation removal in picosure pulses (10 times faster than nanosecond laser). 

Picosure patients report shorter recovery time compared to Q-switched lasers and fewer treatments to remove the pigmentation or tattoo.
Here is a quick comparison of Q-Switched Laser and Picosure Laser.
Q-SWITCHED LASERS

PICOSURE LASERS

Slower results observed when administered to stubborn skin pigmentation

More treatments needed when used on stubborn skin pigmentation

Twice quicker in reaching results when administered to stubborn skin pigmentation

Lesser treatments needed when used on stubborn skin pigmentation
If you want to know the price of Picosure laser, please connect BESTVIEW as possible you can, or click this web http://es.bestviewbeauty.com, you will get a detailed quotation list and good quality service.