Triple Wavelength Diode Laser Hair Removal Machine Introduction
Author:baishilf Time:2022-01-10 13:07:26
Besview is a professional beauty equipment manufacturer in China, our main products includ hair removal machines, tattoo removal machines, skin rejuvenation machines, body slimming machines, etc. There are several styles of hair removal machines, such as IPL, SHR, diode laser hair removal machines. This post we will make the introduction about our triple wavelength hair removal machine. 
755nm: It's suitable for light-colored and thin hair, this wavelength aims to remove the hair on eyebrows, upper lip, etc.
808nm: It's suitable for almost all hair types, it can remove hair on various body parts, making hair removal rapidly and permanently.
1064nm: It's suitable for dark hair removal. this wavelength focuses on the treatment areas like the scalp, armpits, bikini line, etc.
Diode Laser Permanent Hair Removal BM108 is the most complete and effective laser hair removal machine available today,the working principle of  this machine is that the system involves a beam of concentrated light and heat which is directed into the hair follicles.Therefore it can get to the melanin contained in them. The pigment absorbs the laser energy and will be destroyed so as to inhibite hair growth in the affected hair follicles. The laser energy is directed at these follicles while simultaneously protecting the surrounding skin from harm.

Different wavelength of laser can penetrate different depths of the skin, below is the illustration of the triple wavelength laser penetration depth. 

Recommended Portable Triple Wavelength Diode Laser Hair Removal Machine: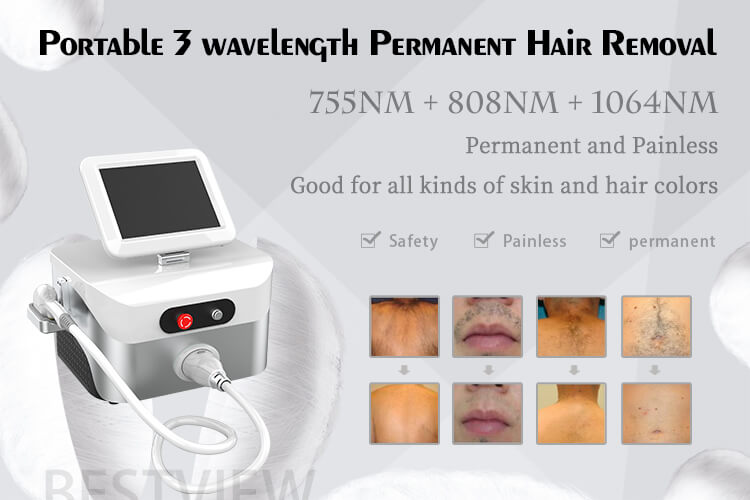 The Features Of This Triple Diode Laser Permanent Hair Removal Machine:
Virtually painless
Proven safety record
Simultaneous contact cooling
Apply for the kinds of  hair types and color
Shorten the treatment time
Portable
Triple Wavelength Diode Laser Hair Removal Machien Screen Introduction: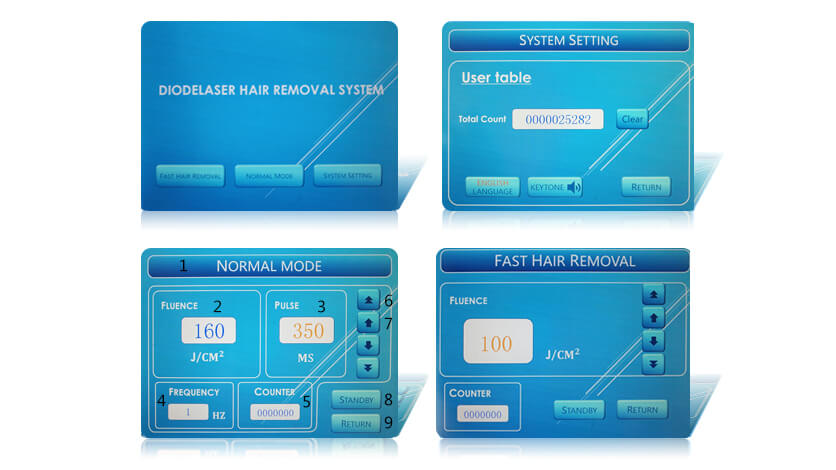 The meanings of normal mode as follows:
1 Treatment mode
2 Power density
3 Pulse duration
4 Frequency 
5 Dotting number
6 5/step
7 1/step
8 Click to get ready
9 Return to main interface
Working Principle  Of  The Triple Wavelength Diode Laser Hair Removal  Machine: