Picosecond Freckle Removal And Ordinary Laser Freckle Removal Difference
Author:baishilf Time:2022-02-09 13:57:31
Laser skin therapy is becoming more and more popular these years, different kinds and wavelength laser can make different treatment for skins.
Laser therapy provides an ideal treatment method for color spots. Different from traditional chemical or physical peeling methods, laser therapy USES a less invasive way to fundamentally remove color spots, so it is safer and more effective.
Today's freckle removal way with the improvement of technology, has been very different. Compared with ordinary laser freckle, super-picosecond freckle removal in a way more effective, what are their differences?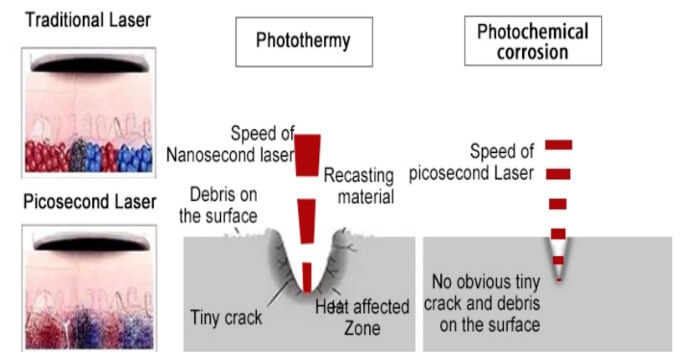 1. Wavelength Differrence:
Picosecond and ordinary laser on the wavelength is the original reason, through the wavelength and color spectrum can see, picosecond clearance is 8 times more than ordinary laser spot, this means that picosecond spot can quickly remove stains, use time is shorter, so in the short time organization of pigment absorption energy are concentrated around is not easy to spread, energy is limited to the greatest extent in need of treatment within the organization, to protect the surrounding normal tissue, it also determines the picosecond spot removal ability.
2. Pulse Width Difference:
Shorter than normal picosecond laser pulse width, the pulse width of the light too late converted into heat energy, has been absorbed by the pigment tissue expansion, the equivalent of picosecond seven times the ordinary laser pigment broken ability, plaques can be played more small, can more effectively remove stains, and reduces the residual pigment, not easy rebound.
3.Different Repair Capabilities:
Picosecond than the ordinary laser freckle more repair force, it can more effectively stimulate the dermal collagen regeneration and elastic fiber reorganization, not only can remove the stain and whitening anti-aging effect.