Professional Protable SHR IPL Laser Machine For Wrinkle And Hair Removal
Author:baishilf Time:2022-01-10 12:59:15
E-light of magnetic wave=light + RF+ the facial cooling It is the new generation of the beatify treatment machine that combined the two major functions of transmission of electromagnetic waves and pulse ray. It is different from the laser or other light treatment that its cardinal work is the use of pulse ray of multiwavelength and transmission of electromagnetic waves absorbed by pathological tissues. Then converted the electromagnetic energy into light and heat energy, and stimulates the activation collagen mother cells to make the skin rearrange, collagen albumen reproduce and the grain of skin rebuild. At the same time it can improve the bulky pore, so as to reach the effect if tightening skin from inner to exterior. Improving not equality color of skin and make your skin return young.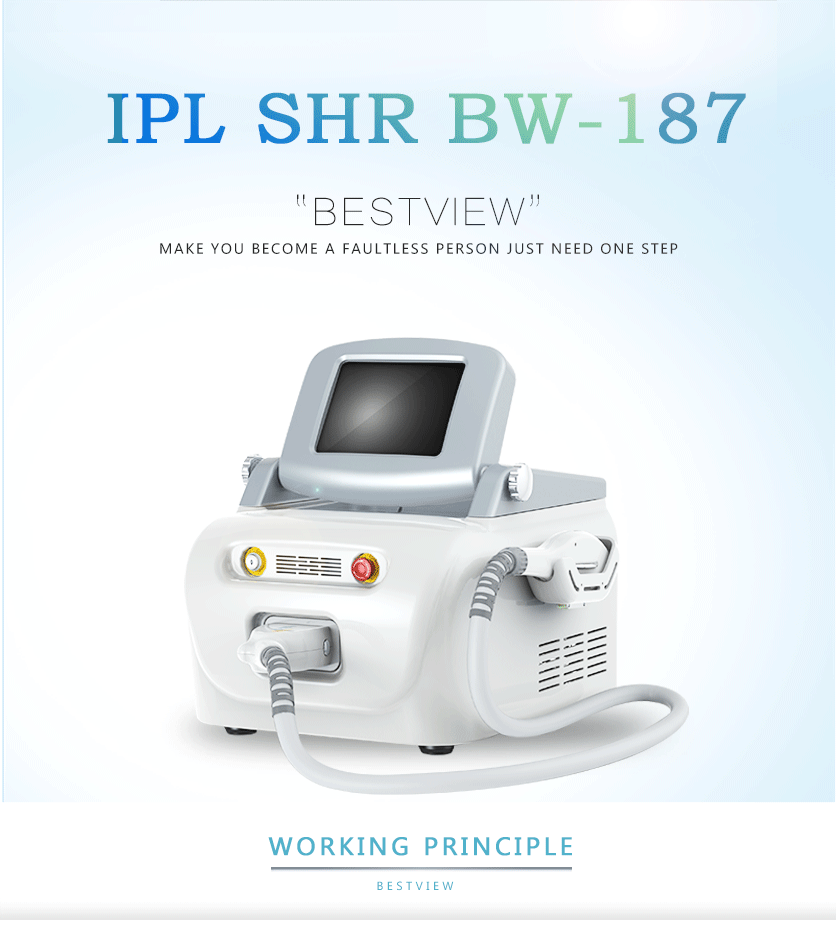 2. Application Of The IPL SHR Laser Machine :
①. Hair removal:  SHR is both effective and comfortable with increased patient safety and reduced treatment times on all skin types. 
②. Skin rejuvenation: IPL is the safest and most efficient way of treating superficial skin texture and pore size for overall facial rejuvenation with zero downtime.
③. Acne treatment: Efficient results on acne vulgaris, anti-inflammatory sterilization and purifies skin.
④. Pigment treatment: Remove freckle and age pigment, reduce chloasma, improve skin color.
⑤. Vascular treatment: Remove or improve anti redness.
⑥. Wrinkle treatment: Remove unwanted wrinkles
3. IPL SHR Laser Machine Technology Advantages
①. SHR technology: Hair can be removed 6-9 times faster than regular IPL.
②. Pain-free: Specific wavelength keeps much water in the target skin.
③. Motion operation: Accelerate the operation, save 1/2 treatment time.
④. Self-checking: Monitor the water circulation and identified handpiece all the time, keep safe working all the time.